ISO Dimensions of Shipping Containers and the Code meanings
ISO containers are the ideal shipping container as their dimensions are regulated by the International Standards Organization (ISO). These regulations allow ISO containers to use space as efficiently as possible regardless of the method of transport.
Height
Standard ISO containers measure 8 ft. 6 in., but they are available in several discrete heights measuring from 4 ft. to 9 ft. 6 in.  Containers that measure 9 ft. 6 in. tall are called extended height or high cube containers while 4 ft. and 4 ft. 6 in. containers may be referenced as half height containers.
Width
The majority of all ISO containers measure 8 ft. or 2,438 mm wide. ISO Containers that exceed this dimension are grouped into two other size ranges. Alpha characters C, D, E, and F identify containers that are greater than 2,438 mm, but less than 2,500 mm. Containers that exceed 2,500 mm are referenced by L, M, N, and P.
Length
The most common lengths are 20 and 40 ft. Other lengths include 24, 28, 44, 45, 46, 53, and 56 ft.
Coding, Identifying, and Marking
The standard used to identify intermodal (shipping) containers is ISO 6346:1995. This standardized identification system is used to give each container a unique marking. The code can be further broken up into three parts an ISO 6346 (BIC) code, a size and type code, and additional optional markings.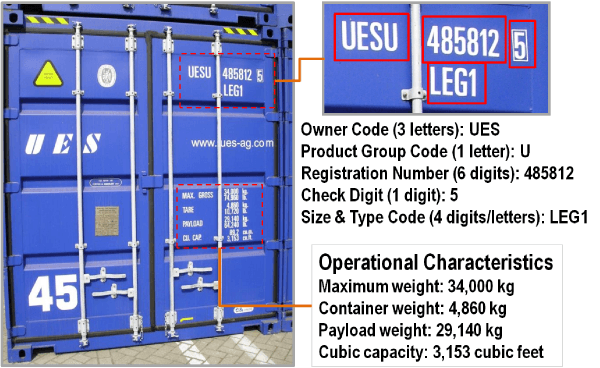 Image Credit: The Geography of Transport Systems
ISO 6346 (BIC) Codes
The ISO 6346 (BIC) code identifies the owner of the container, the product group, and contains a unique serial number and check digit that identifies the container. The company code or owner code is the first three alpha characters. This abbreviation is registered with an international organization, Bureau International des Containers et du Transport Intermodal, ensuring every company has a unique code. The product group U is used for all intermodal containers while J is used for equipment attachments and Z designates chassis or frames used to carry intermodal containers. The serial number identifies an individual container and is cross referenced with the check digit.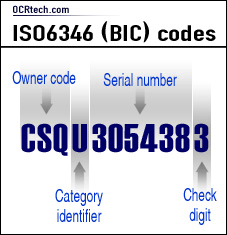 Image Credit: BSL Containers
Size and Type Codes
The size and type code is a four character code that represents the length, height, width, and type of container. The first character specifies the length, the second the height and width, and the last two characters specify the type of container as shown in the table below. 
Code
Group code
Type
Type code
Principal characteristics
 

---

 G
 GP
 Unventilated general purpose container
 G0
 Openings at one or both ends
 
 
 
 G1
 Vents in upper part of cargo space
 
 
 
 G2
 Openings at one or both end(s), plus "full" openings at one or both sides
 
 
 
 G3
 Openings at one or both end(s), plus "partial" openings at one or both sides
 
 
 
 G4
 Spare
 
 
 
 G5
 Spare
 
 
 
 G6
 Spare
 
 
 
 G7
 Spare
 
 
 
 G8
 Spare
 
 
 
 G9
 Spare

---

 V
 VH
 General purpose containers with ventilation
 V0
 Non-mechanical ventilation at the lower and upper parts of the cargo space
 
 
 
 V1
 Spare
 
 
 
 V2
 Mechanical ventilation installed in the container
 
 
 
 V3
 Spare
 
 
 
 V4
 Mechanical ventilation installed outside the container
 
 
 
 V5
 Spare
 
 
 
 V6
 Spare
 
 
 
 V7
 Spare
 
 
 
 V8
 Spare
 
 
 
 V9
 Spare

---

 B
 BU
 Dry bulk containers, non-pressure-resistant
 B0
 Closed
 
 
 
 B1
 Airtight
 
 BK
 Pressurized
 B2
 Spare
 
 
 
 B3
 Horizontal discharge, test pressure 150 kPa
 
 
 
 B4
 Horizontal discharge, test pressure 265 kPa
 
 
 
 B5
 Tipping discharge, test pressure 150 kPa
 
 
 
 B6
 Tipping discharge, test pressure 265 kPa
 
 
 
 B7
 Spare
 
 
 
 B8
 Spare
 
 
 
 B9
 Spare

---

 S
 SN
 Named cargo containers
 S0
 Livestock container
 
 
 
 S1
 Automobile container
 
 
 
 S2
 Living fish container
 
 
 
 S3
 Spare
 
 
 
 S4
 Spare
 
 
 
 S5
 Spare
 
 
 
 S6
 Spare
 
 
 
 S7
 Spare
 
 
 
 S8
 Spare
 
 
 
 S9
 Spare

---

 R
 RE
 Thermal containers
- refrigerated
- refrigerated and heated
- self powered refrigerated/heated
 R0
 Mechanically refrigerated
 
 RT
 
 R1
 Mechanically refrigerated and heated
 
 RS
 
 R2
 Mechanically refrigerated
 
 
 
 R3
 Mechanically refrigerated and heated
 
 
 
 R4
 Spare
 
 
 
 R5
 Spare
 
 
 
 R6
 Spare
 
 
 
 R7
 Spare
 
 
 
 R8
 Spare
 
 
 
 R9
 Spare

---

 H
 HR
 Thermal containers
- refrigerated and/or heated with removable equipment
 H0
 Refrigerated and/or heated with removable equipment located externally, coefficient of heat transfer K=0.4 W/(m2.K)
 
 
 
 H1
 Refrigerated and/or heated with removable equipment located internally
 
 
 
 H2
 Refrigerated and/or heated with removable equipment located externally, coefficient of heat transfer K=0.7 W/(m2.K)
 
 
 
 H3
 Spare
 
 
 
 H4
 Spare
 
 HI
 
 H5
 Insulated, coefficient of heat transfer K=0.4 W/(m2.K)
 
 
 
 H6
 Insulated, coefficient of heat transfer K=0.7 W/(m2.K)
 
 
 
 H7
 Spare
 
 
 
 H8
 Spare
 
 
 
 H9
 Spare

---

 U
 UT
 Open-top containers
 U0
 Opening(s) at one or both end(s)
 
 
 
 U1
 Opening(s) at one or both end(s) plus removable roof in end frame
 
 
 
 U2
 Opening(s) at one of both end(s) plus opening(s) on one or both sides
 
 
 
 U3
 Opening(s) at one or both end(s) plus opening(s) on one or both sides plus removable top members
 
 
 
 U4
 Opening(s) at one or both end(s) plus opening(s) on one side plus full openings on the other side
 
 
 
 U5
 Full, solid side and end walls (no doors)
 
 
 
 U6
 Spare
 
 
 
 U7
 Spare
 
 
 
 U8
 Spare
 
 
 
 U9
 Spare

---

 P
 PL
 Platform (container)
- platform based on containers with incomplete superstructure
- fixed
- folding
- platform based containers with complete superstructure
 P0
 Platform
 
 PF
 
 P1
 Platform with two complete, fixed end walls
 
 
 
 P2
 Platform with fixed posts, either free-standing or with removable top members
 
 PC
 
 P3
 Platform with folding complete end walls
 
 
 
 P4
 Platform with folding posts, either free-standing or with removable top members
 
 PS
 
 P5
 Platform, open at the top and ends (skeletal)
 
 
 
 P6
 Spare
 
 
 
 P7
 Spare
 
 
 
 P8
 Spare
 
 
 
 P9
 Spare

---

 T
 TN
 Tank container for non-dangerous liquids
 T0
 Minimum pressure 45 kPa
 
 
 
 T1
 Minimum pressure 150 kPa
 
 
 
 T2
 Minimum pressure 265 kPa
 
 TD
 Tank container for dangerous liquids
 T3
 Minimum pressure 150 kPa
 
 
 
 T4
 Minimum pressure 265 kPa
 
 
 
 T5
 Minimum pressure 400 kPa
 
 
 
 T6
 Minimum pressure 600 kPa
 
 TG
 Tank container for gases
 T7
 Minimum pressure 910 kPa
 
 
 
 T8
 Minimum pressure 2 200 kPa
 
 
 
 T9
 Minimum pressure (yet to be assigned)

---

 A
 AS
 Air/surface containers
 A0
 
---
Image Credit: SMDG